 Five ways to use up leftover Christmas booze (other than drinking it!)
15/11/2021
During the festive period you might find that your cupboards and kitchen counters are host to some interesting additions – usually a selection of half-full bottles of your Aunt Jane's favourite brandy, odds and sods of wine, or packs of beer that you didn't end up managing to finish.
Not keen on drinking the dregs, but also don't want to waste it by throwing it down the sink? Worry not, because there are lots of ways to use up the leftover booze you've got knocking around from the festive season. Put your leftover alcohol to good use in the kitchen with these fabulous recipes. More often than not, you can't taste the alcohol itself in the food, but it enriches and deepens the flavours. Delish!
Use beer for batter
Adding beer into the batter mix for fish tacos or the classic battered cod gives it a really light airy texture that's simply irresistible! The yeast and carbonation in beer makes the batter super delicate and ultra crispy, just like you'd find in your local chippy.
It doesn't matter too much which type of beer you use, as its primarily used for texture rather than flavour – pale ales and lagers will both work equally well. We'd recommend staying away from stouts or porters as they may discolour the batter or give it the wrong flavour. The key to success is to refrigerate the beer before you add it into the mix, keeping it ice cold will give the batter that extra crispy crunch!

Try this delicious and simple recipe for Beer Battered Fish Tacos from The Endless Meal
Make tipsy fruit
When it comes to fresh fruit and sprits, the possibilities are almost endless. Soaking fruit softens it and gives it a gorgeous flavour, not to mention enhancing its sweetness as well! It's also a great way to use up with fruit that's turned a little overripe.
There are so many different flavour combinations that it's difficult to go wrong, but fruits like strawberries, watermelon, pineapple, apple, grapes, melons and bananas are gorgeous soaked in clear spirits like rum, vodka and gin, or darker spirits like whisky, brandy or tequila. Adding extras like sugar, orange juice, lime or basil is going to take the flavours to new heights too.
You can enjoy the macerated fruit straight out of the bowl, or spoon it onto yoghurt or ice cream, add it into a trifle or even use it to accompany your Sunday roast with richer, darker meats like duck.

This tipsy fruit salad from Garlic & Zest is one of our faves!
Flavour sauces with spirits
Adding alcohol into your sauces when cooking will make the dish burst with flavour. Here are three ideas:
Vodka Pasta
If you've eaten a lot of meat this Christmas, a comforting bowl of pasta might be just what you're craving. Adding vodka into your tomato pasta sauce adds a touch of heat and releases flavours from the tomatoes that you wouldn't otherwise be able to unlock without the emulsifying properties of vodka – magic!

Try this Penne Alla Vodka recipe from Delish.com here
Sticky Bourbon Chicken
This one is a great substitute if you've got one eye on the takeaway menu that's stuck to your fridge. Instead, look after your wallet and try out this delicious and simple stir fry chicken recipe which uses a dash of bourbon to deepen the flavour.

Try this recipe from Spend With Pennies here
Freeze wine
'FREEZE wine!?' we hear you cry! Fear not, we're not suggesting you freeze bottles of wine to thaw out and drink when you next fancy a glass. Hear us out… Pouring leftover red and white wine into ice trays and popping it into the freezer is actually a great way to save every last drop of your favourite wine. It will mean you have ready made flavour bombs to pop into stews, bolognaises, creamy sauces or to add into gravy too.
Leaving opened bottles next to the hob to remind you to add a splash in when you're cooking is another way of doing it, but if the wine is uncorked it's only going to last a couple of days, so freezing it is a great way to make it last longer.
Make preserves and chutneys
Adding in alcohol when you're making preserves or jams is another great way to use up any leftover festive spirits. Here are a few recipe ideas that are sure to jazz up your breakfast in the morning – tequila sunrise on toast anyone?!
Strawberry jam with gin
Get a glimpse of summer with this strawberry and gin combo. This delicious recipe from Larder Love uses gin-soaked strawberries which is simply divine served on a scone with cream for an afternoon treat.
Bourbon bacon jam
If you're a fan of savoury and sweet flavours mixed together, you'll love this one. It's a super versatile preserve to have in the fridge as it's gorgeous with cheese, mixed with maple syrup and added into pancakes, or even folded into pasta. Get the recipe from Kitchn here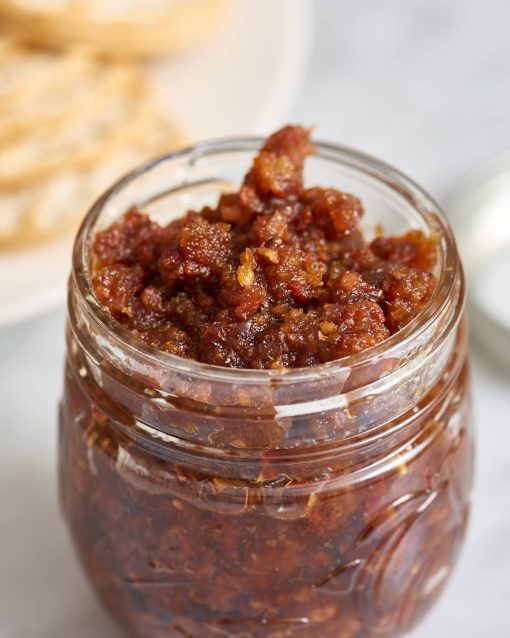 Cherry jam with white wine
A great way to use up a half-finished bottle of white wine, this boozy cherry jam shouldn't be reserved for just toast, its also a lovely accompaniment to roasted meats! We have Kitchen Stories to thank for this one – recipe here
Tequila sunrise clementine and cranberry marmalade
If you're hosting a boxing day brunch, impress your guests by serving up this mouthwatering sweet-tart jam… The sweetness of the clementine oranges, tartness of the cranberries and the buzz of tequila give it a complex and zesty taste, perfect with brioche or stirred into yoghurt and granola. Recipe from Fearless and Fresh here.