Food and Wine Pairing is a science and art – science because there is evidence that flavour molecules in food can be complimentary or off putting when paired with drinks. And art because what evokes a positive memory for you, may evoke a not so great for someone else. So when we were tasked with pairing wines for Masterchef 2021 runner-up Mike Tomkins's 7 course Pop-up event, we were thrilled!
On a classically British windy summer evening at the most stunning location in Cobham, Surrey; 30+ people gathered to experience the gastronomic event.
All amazing photos by Phil at The PH Balance
7 courses of Food and Wine Heaven
Reception Drinks – We handpicked our favourite Organic Prosecco for Welcome Drink by the Rose Garden as people enjoyed homemade Focaccia and mingled among old friends and new.
Wine Pairing: Ceradello Organic Prosecco
First Course: Charred baby cos, Caesar salad dressing, croutons, crispy chicken skin crumb, small fried pieces of pancetta
Emiliana Novas Organic Sauvignon Blanc, made in San Antonio Valley in Chile, grow all their fruit 100% organically and biodynamically with ducks and wildflowers enveloping their vineyards. Their commitment and knowledge of their own biodiversity and agroecosystems is phenomenal.
They make this incredibly mouth-watering Sauvignon Blanc which paired very well with the chicken but also acted as palate cleanser. Guests were thrilled by this wine as it was a smooth, fruity and savoury Sauvignon Blanc and it even converted some of the Sauvignon-haters!
Wine Pairing: Emiliana Novas Organic Sauvignon Blanc
Second Course: Roasted red pepper gazpacho, anchovy twist, pickled cucumber, red pepper, green pepper and basil oil
This was a challenge and after careful consideration the classy Mas de Dumas Moulin de Gassac Rosé chosen to pair. There is a lot of gorgeous complimentary flavours going on in the gazpacho and we focused on the roasted red peppers to pair with the delicious flavours of summer fruit and soft acidity to clean the palate, so you are ready for the next spoonful.
A bit about the wine – Mas de Dumas was founded in Gassac Valley of South of France in 1971 by Guibert family and today their sons look after the estate and farm without synthetic chemicals. The rosé is a blend of Grenache, Carignan and Syrah.
Wine Pairing: Mas de Dumas Moulin de Gassac Rosé Wine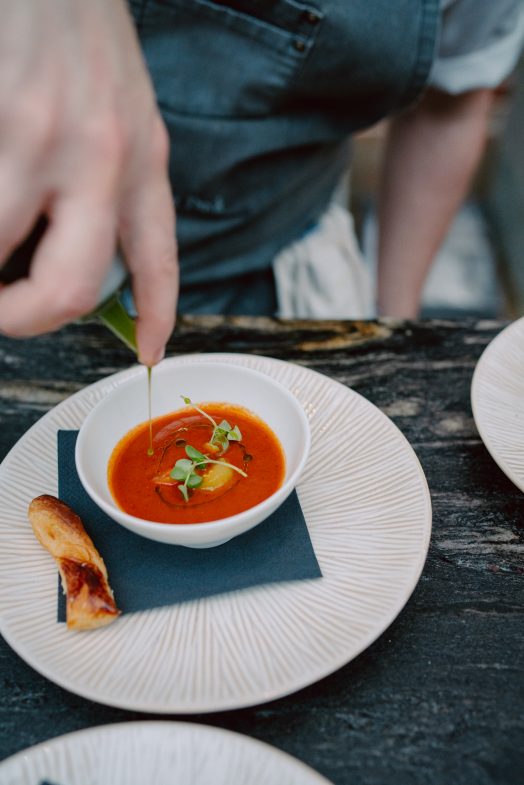 Third Course: Minted courgettes sautéed in butter and oil with smoked feta crumbed over the top, roasted lemon and honey
We were really excited for this pairing – there is interesting mix of flavours with smokiness of the feta, citrus of the lemon and mint for freshness and so we paired it with this Spanish White Wine – Pirineos 3404 – which is a blend of Chardonnay and Gewurztraminer. The Chardonnay paired nicely with the creamy elements of this dish whilst the Gewurztraminer complemented the aromatic components. It was a show stopper!
Wine Pairing: Pirineos 3404 Spanish White Wine
Fish Course: Scallops pan seared, cauliflower puree, pickled apple slice of compressed apple, pancetta flavoured gremolata served in the shell
The star of this course was of course, the Scallop – and the wine was simply there to help elevate it even further. Picpoul is the name of the grape and the wine is from Languedoc region of South of France. It's a perfect wine for shellfish and seafood because of its lip-smacking acidity but also aromas of citrus, peach, apples, melons and a hint of salt on the finish.
Wine Pairing: Grange des Rocs Picpoul de Pinet
Main Course: Slow roast ex dairy bone in sirloin with a tarragon and peppercorn sauce, grilled tenderstem broccoli, crushed jersey royals with chives and truffle butter and a stuffed ruscoff onion with beef cheek topped with chives and panko breadcrumbs
The powerhouse course! We wanted to pair something light with it, and yes, we know traditionally you are supposed to pair something heavy with steak but to pair with the herbs and peppercorn we went with something elegant. This incredible natural red wine is blend of Grenache & Syrah with no oak ageing and is bottled unfiltered. So this means that all you taste is as pure fruit-turned-into-wine as possible.
Aromas of herbs, coffee, ripe red fruit and smooth tannins with easy drinking acidity should not only compliment the main course but also be a nice summer red to sip on. The wine is a Cotes du Rhone from the Rhone Valley and made with 70% organic fruit, natural yeasts and low intervention practices.
Wine Pairing: Les Oliviers Cotes du Rhone Red Wine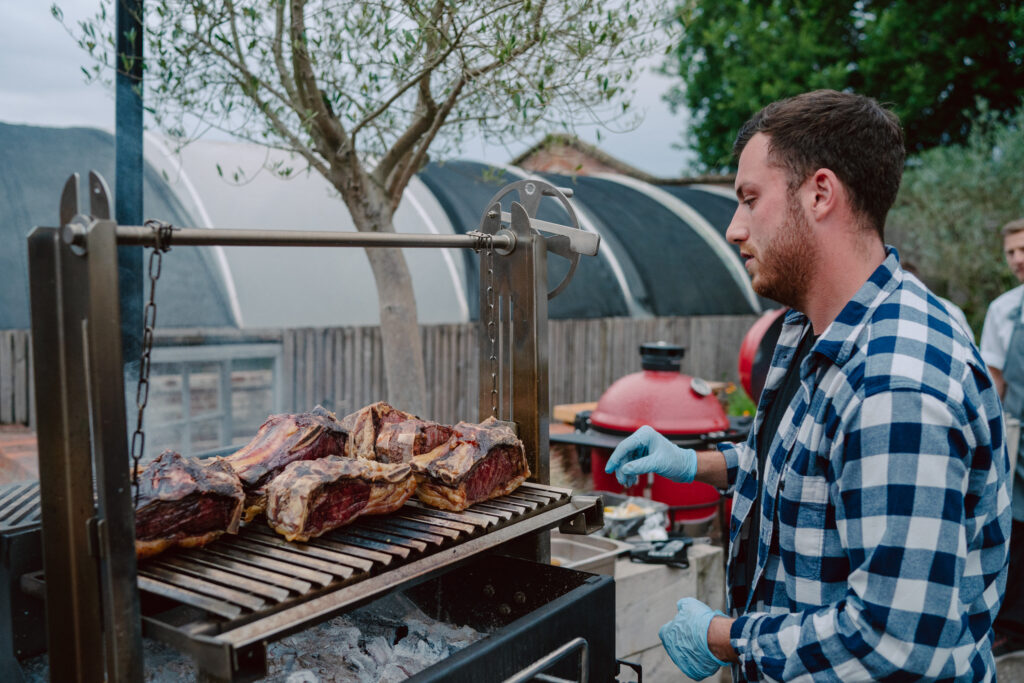 *Pallet Cleanser* Pineapple and rum sorbet with candied pineapple

Dessert Course: Lemon tart with Italian meringue
We went for something super special here – an ice cider! Made in Sweden, Brannland are iconic producers of top quality ciders and ice ciders. They harvest the apples late in the season where the natural freezing conditions freeze all the water molecules in the apple, making it a concentrated ball of flavours such as honeysuckle, green tea, white flowers. Claim Ice Cider is their lighter style of ice cider and it paired gorgeously with the citrus of the lemon and the light creamy texture.
Cider Pairing: Brannland Claim Ice Cider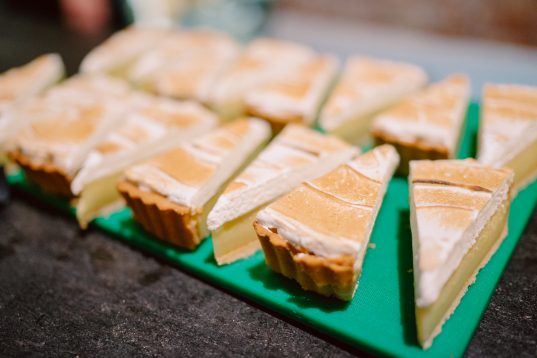 It was a magical evening with some amazing food by Mike Tomkins, who blew us away with his skill of bringing the finest ingredients together with impressive knowledge of cooking techniques. Follow him on Instagram, where he generously shares his cooking knowledge to elevate even the most novice of cooks – Mike Tomkins