The Welcome Drinks
The most wonderful time of the year is fast approaching, which means it's time to start planning your festive celebrations! 'Tis the season to be merry after all, so what better way to celebrate the holidays than to throw a fabulous Christmas drinks soiree with your nearest and dearest!
As drinks experts, we at All Things Drinks know a thing or two about throwing a party. We're here to help you curate the perfect selection of drinks to please just about everyone and get that party started.
Fizz
To give your soiree that extra sparkle, look no further than sparkling wine! We've nearly made it to the end of the year (and what a year it has been!) so celebrating with a glass of bubbles should be high up on the party agenda.  Practically speaking, bubbles are great to serve at a party because they can double up as a cocktail ingredient as well! 
If you think your guests have made it onto Santa's nice list, why not go all out and treat them to the best of the best – Champagne of course! Another great option that's still a real treat but a little easier on the wallet is some delicious Prosecco. Here are a couple of our recommendations:
Champagne
This elegant and balanced Champagne Moutard Grande Cuvee Brut NV is sure to set the tone right at the beginning of any festive drinks party. Made with Pinot Noir grapes and aged for 36 months, it has rich buttery notes of brioche as well as fresh citrus and beautiful bubbles. Simply delicious!
Prosecco
Still want bubbles but looking for something a little more budget friendly? Prosecco is the answer! This Ceradello Prosecco Organic Brut NV has delicate fruit and floral flavours that give way to peach notes – ideal for serving with canapés. Your guests might thank you for serving this one, its organic and vegan
Cocktails
Having a couple of delicious cocktails on rotation can be a real crowd pleaser at a party. Unless you've decided to hire a bartender, it's best to keep them simple and make larger batches otherwise they can be a rather time consuming endeavour. Here are two of our favourite winter cocktails that are sure to be a hit at any Christmas party
Mulled white wine
Mulled wine is about as Christmassy as it gets. Try an alternative twist on the Christmas classic by using white wine instead of red. Switch up the headier spices for lighter flavours of elderflower, vanilla and cider. Top tip – use a slow cooker with a 'keep warm' setting to keep it at the perfect temperature during the festivities.
Ingredients (makes about 10 mugs)
2 bottles dry white wine (Try Novas Gran Reserva Organic Sauvignon Blanc)
500ml bottle light cider
150ml elderflower cordial
zest of two lemons
2 cinnamon sticks
1 vanilla pod
4-5 tbsp caster sugar
Method
Add all of the ingredients into a large pan or slow cooker and heat until fragrant and steaming (but not boiling).
Set the slow cooker to 'keep warm' or place a lid on the pan and serve as your guests arrive!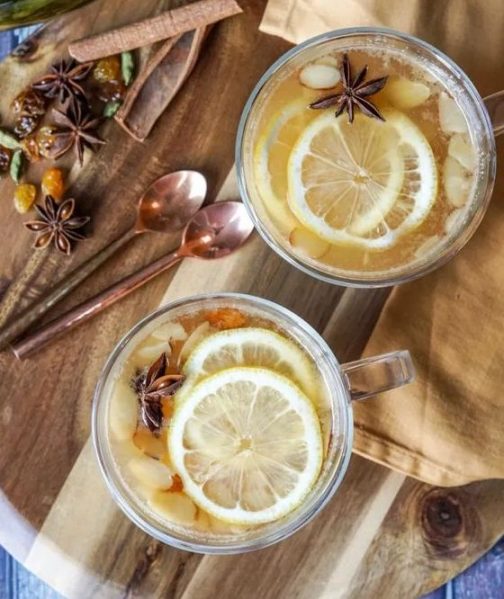 Cranberry mimosas
Also known as Poinsettias, these are perfect if you're already serving up champagne or Prosecco. Super refreshing and easy on the eye, it's worth pouring a few glasses of these in advance – they'll go quick!
Ingredients (makes 7-8 glasses)
1 bottle of champagne (Try Champagne Moutard Grande Cuvee Brut NV)
125 ml Triple Sec
500ml cranberry juice
1 lime halved
2 tbsp. sugar
Fresh cranberries and rosemary sprigs for garnish
Method
Mix the champagne with the triple sec and cranberry juice in a large pitcher
Line champagne flutes in lime juice and dip in sugar
Pour into flutes and top with fresh cranberries and a sprig of rosemary
Beer
Give your guests the option of an alternative to fizz and cocktails by serving a selection of your favourite beers too. Lagers are always a safe bet, and why not invite your guests to discover something a little different by serving a craft pale ale from a local brewery. These three will cover all bases:
Camden Town Hells Lager 
This is guaranteed to be a winner amongst the beer lovers at the party. Clean and refreshing, it's exactly how a great lager should taste.
Mikkeller Side Eyes Pale Ale
Served in a can, this is great for those looking for a laid back option. Easy drinking it might be, but ordinary it is not. Produced by an experimental brewer in Copenhagen, it is fruity with hints of mandarin and tropical fruits.
Chimay Strong Dark Blue Label Beer
One for the beer drinkers at the party who prefer a darker, stronger flavour. This Belgian trappist dark ale has Christmassy flavours of port and caramel, with sweet notes of figs and warming spices. Now we come to think of it, it's the perfect festive beer!
Alcohol-Free
Don't leave your sober friends and designated drivers with juice and water when there are so many interesting non alcoholic drinks available! Lyre's distillery has a fabulous range of non alcoholic spirits to whip up some delicious Christmas mocktails, or treat them to a selection of Square Root's natural and additives sodas. 
To fulfil your alcohol free guests' Christmas fix, have a warming pan of alcohol free mulled wine at the ready. Here's how you make it:
Ingredients
450ml pomegranate juice
250ml apple juice
100ml freshly squeezed orange juice
20g golden caster sugar
handful of blackberries
1 star anise
1 cinnamon stick
4 cloves
4 black peppercorns
1 orange quartered
Method
Combine all the ingredients into a saucepan and gently simmer until fragrant. Taste for sweetness and add a little more sugar if needed.
Strain into mugs and garnish with dried orange slices