Dimple, both the founder and the dedicated individual behind this blog, shares an immense love for Scotch whisky. In her capacity as a judge at the Spirits Business Global Spirits Masters and American Distilling Institute, Dimple assesses hundreds of Scotch whiskies to reveal the finest selections. This passion propels our mission: discovering the very best Scotch whiskies. Drawing on this expertise, we've carefully curated a concise Amazon Prime shortlist for your convenience.
Rest assured, our recommendations remain unbiased despite potential commissions.
Let's raise a glass, whether it's a intriguing dram of Lowlands whisky or a refreshing glass of Scotch whisky highball, and embark on a journey to uncover remarkable Scotch Whiskies together.
Black Bottle Smoke & Dagger Blended Scotch Whisky
Kicking things off with an award-winning blend from the Black Bottle Alchemy Series, the Smoke & Dagger exudes darkness and smokiness, concealing a subtle edge. Immerse yourself in a sea of dark smoke, with undertones of sea spray and salted caramel. Whether enjoyed neat or in a whisky cocktail, its dark and smoky profile with a hidden edge offers an oceanic experience of potent peat, crisp spice, and salted caramel currents.
The Arran Malt 10 YO Single Malt Scotch
The whiskies crafted by The Arran Distillery offer remarkable value! This 10-year-old Single Malt Scotch Whisky from the Isle of Arran stands out with its impressive qualities. It presents rich vanilla notes, a hint of spicy cinnamon, and an abundance of citrus freshness, all against a backdrop of oak that imparts sweetness and smoothness leading to a satisfying finish. Non-chill filtered and free from added color, this exquisite whisky is a harmonious blend of malt, oak, and time.
Aberfeldy 12 YO Highland Scotch Single Malt Whisky
Here's another exceptional value-for-money whisky conveniently accessible on Amazon Prime! Aberfeldy single malt whisky, boasting over 150 medals from prestigious spirits competitions worldwide, has been meticulously distilled in the foothills of the Central Highlands of Scotland since 1898. This 12-year-old Single Malt Scotch Whisky is delightfully smooth and approachable, featuring notes of spice and honeyed plump fruits. Its profile is syrupy, enriched with abundant vanilla and fudge, and concludes with a subtle hint of smoke on the finish.
Compass Box Orchard House Scotch Whisky
Compass Box's Orchard House, a versatile all-malt whisky, showcases Scotland's fruitiest expressions with a lively and fragrant profile. Aromas of apple, pear, and hints of pineapple and citrus zest lead to a palate with malty, gingery notes, and delightful touches of honey, wild strawberries, and vanilla shortbread.
Enjoy this spirit-driven gem neat or over a large ice cube for an outstanding pre-dinner malt. Its light oak influence makes it a perfect addition to your home bar, complementing amber and pale ales, as well as a variety of soft cheeses.
Talisker Storm Single Malt Scotch Whisky
Born from the tempestuous seas surrounding the Isle of Skye, Talisker Storm was first released in 2013 and it's fast become a favourite. A dark, smoky whisky that immerses you in the heart of a sea storm. Its tasting journey unfolds like a gathering storm, beginning with sweet maltiness and ripe red berries, evolving into layers of smoke, brine, and a burst of pepper.
Enjoy its spicy, sweet, and salty flavours neat or with a touch of water. A gift for adventurous souls, Talisker Storm is a whisky rooted in nature's wild embrace.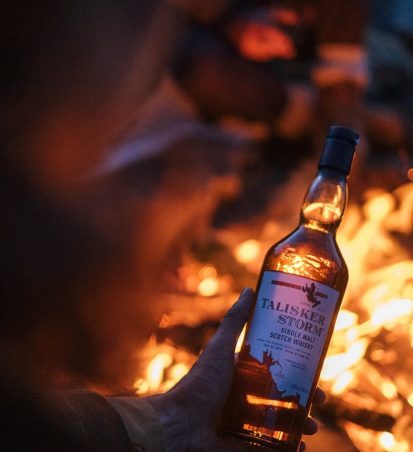 Stratheden Classic Blended Malt Scotch Whisky
The Lost Distillery Company, an independent blender, revives whiskies from long-lost distilleries of the late 19th and early 20th centuries. Marked by the Triskele, an ancient Celtic symbol of reincarnation, each blended malt mirrors the historical style. In 1829, Alexander Bonthrone, aged 31, founded the Stratheden distillery, where he tended to the stills for an impressive six decades until his passing in 1890. His enduring commitment makes him one of Scotland's most enduring distillers.
Experience a symphony of flavours with malty notes, orange peel, chocolate, and peat in Stratheden Classic Blended Malt Scotch whisky. The aroma captivates with hints of dry fruit-cake, madeira cake, tinned pears, and a subtle touch of scorched newspaper. The smooth texture delivers a sweet taste with a smoky finish and a mineral twist, softened by water to reveal a lingering smokiness.
Johnnie Walker 18 YO Blended Scotch Whisky
Crafted by master blender Jim Beveridge, Johnnie Walker 18 YO is an outstanding blended Scotch whisky, harmonising up to 15 different whiskies. Indulge in creamy vanilla, vibrant fruit, and runny honey, accompanied by delicate wisps of smoke. This rich, opulent expression unfolds with warming spices, a burst of sweet fruit, and creamy smoothness, leading to a sumptuous, lingering finish.