The words 'Dry January' incite different reactions in everyone. Some are relieved that it's finally time for a detox, others welcome it with a hint of dread, anticipating January to be a long slog without being able to wind down with their favourite tipple. Others simply ignore it, outraged that a month so dark and dreary as January should be stripped of any chance of happiness altogether.
Whatever your stance on Dry January, the chances are that you've heard of it – it's a phenomenon that's taken the UK by storm in the past few years, offering some alcohol-free respite after the last of the festive bubbles have been polished off and the final morsels of wine have been mulled.
Whether you've gone a little overboard during the festive period, want to kick off the New Year with a detox, or even just want to give your wallet a rest after an expensive month, we're here to give you the low down on all things Dry Jan. We've got some motivational tips to help you stay on track and recommendations for the best no & low alcohol alternatives to keep your taste buds happy!
Click here for the complete All Things Drinks No & Low range
Where did 'Dry January' come from?
Dry January actually began as an initiative by Alcohol UK in 2013 to spark a new conversation about alcohol consumption, encouraging people to consider and discuss their drinking habits. It started as a bit of an experiment with just 4000 participants, and has since become hugely popular, with an estimated 6.5 million people taking part last year.
OK, I'm interested – Persuade me
Dry Jan can be a great way to reset and enjoy the benefits of staying off booze for a while. It doesn't have to be difficult either, in recent years, the 'no and low' drinks market has exploded, with hundreds of different 0% alcohol alternatives bursting onto the scene. With so many delicious alternatives on the market, many participants actually report it to be much easier than they first anticipated – and end up discovering some delicious alcohol-free beverages that they continue to drink beyond January.
Some amazing health benefits
Of course, one of the most obvious reasons to take part in Dry Jan is for the health benefits. The recommended weekly alcohol intake for adults is 14 units per week, which equates to around six medium glasses of wine or six pints. With mugs of mulled wine and glasses of bubbles at every turn during the festive period, it's easy to see how those units start to add up.
Previous participants who've gone sober for a month have reported better sleep, increased energy levels, stronger immune system, weight loss and even improved blood pressure. For many, these newfound energy levels mean they are more productive and even use the opportunity to reach new fitness goals.
It's a great way to discover new drinks
Doing Dry January doesn't mean you have to stick to water at all times. As Dry Jan has gained traction in recent years, drinks creators have become more and more creative with their alcohol free ranges. From Non-Alcoholic sparkling wine, alcohol free beer to delicious Kombucha flavours and CBD seltzers, there's so much to try!
For all the cocktail lovers, there are some incredible alcohol-free spirits available. We love the Lyre's Distillery range, which includes Non-Alcoholic Dry London Spirit, Non-Alcoholic White Cane Spirit and Non-Alcoholic America Malt. Yum! Read on for some inspo on some of our favourite 'no and low' options.
Reconsider your relationship with alcohol
One of the more unexpected benefits of taking part in Dry January is that it offers time to reflect on your attitude towards alcohol. Lots of participants say that once January is up, they savour the taste of their favourite drinks more, and tend to drink in a more mindful way year-round.
Need some inspiration for alcohol-free drinks? Keep reading..
If you thought doing Dry January was going to be a boring endeavour, you thought wrong! At All Things Drinks we are passionate about bringing you a fabulous selection of alcohol free beverages to tantalise your taste buds. Some of these might just surprise you!
Of course, these options don't have to be reserved for Dry January – they are all fabulous alternatives for people looking to stay sober year round or for those who want to replicate their favourite tipple during pregnancy.
Non-Alcoholic Wine
We absolutely love ALT Drinks selection of alcohol free wines. Their Sparkling Chardonnay Non-Alcoholic Wine has a refreshing acidity & strong fizz with hints of green apples & citrus peel accompanied with a floral aroma. It's an ideal alternative for those celebratory moments.
Attending (or even hosting) a baby shower in January? Their Sparkling Rosé Non-Alcoholic Wine is the perfect bottle to bring along to toast the special occasion. It's a 100% Tempranillo Rosé Sparkling Wine (of course with no alcohol) which has refreshing acidity with some sweetness & strong fizz, hints of of summer berries, citrus peel & aromatic spice. Cheers!
Kombucha/Sparkling Tea
Why not rejuvenate, uplift and enlighten with a Kombucha this Dry Jan? This lightly fizzy fermented drink made from sweetened black or green tea has taken the wellness world by storm in the past few years. Made with tea, sugar and a happy mix of bacteria and yeast, it's known for its many health benefits, such as improving gut microbiome which in turn improves digestion, inflammation and energy levels. Tea is also full of antioxidants which are essential in preventing various diseases.
CBD Seltzer
CBD is another wellness trend that has been steadily gaining popularity in recent years, and for good reason too. More and more evidence is proving CBD's plant power for combating stress and inflammation in the body.
This Goodrays CBD Raspberry & Guava Seltzer has 30mg of safety-tested CBD from sustainable Colorado-grown cannabis, resulting in a refreshing and slightly sweet drink with floral & tropical notes. At just 33 calories, no added sugar, additives free and using only natural flavourings, this is another great option for those prioritising their health and fitness in January. It's a nice post-workout treat to relax you after that endorphin high.
If you're into more aromatic flavours, try their Elderflower and Yuzu Seltzer – a refreshing drink with sweet notes of white flowers. It's delicious on its own but for an elevated experience, we recommend popping it in a glass with some ice and a slice of lemon.
Non-alcoholic beers
For the beer lovers out there, non-alcoholic lagers really are a godsend during Dry January. The bottles look exactly the same as a regular beer and so are a great way to help alleviate feelings of isolation in social situations where everyone is enjoying a pint.
This Lucky Saint Non-Alcoholic Lager is unfiltered for maximum flavour, with lovely flavours of tropical fruits, citrus and biscuits. It's vegan and with just 53 calories per serving (that's a third of a normal beer!) you can drink one or several for a guilt-free and hangover-free experience.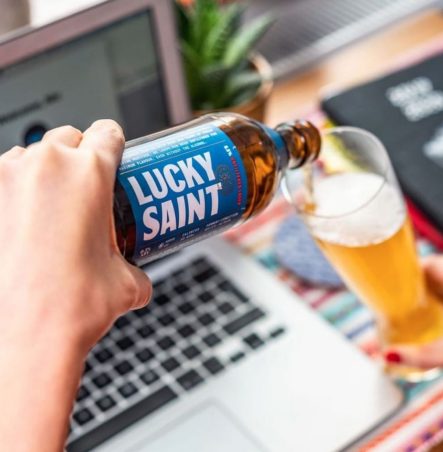 Alcohol free spirits
Distilleries everywhere are hopping onto the alcohol-free spirits trend, and they show no signs of slowing down, with consumption of no and low spirits set to increase by over a third in the next 3 years, according to the IWSR
Preparing for Dry Jan by stocking up on your favourite spirit alternatives is an amazing way to stay on track and recreate your favourite cocktails. One of our favourite no and low spirits producers is Lyre's Distillery. The owners Mark Livings and Carl Hartmann spent over three years perfecting the recipes to create flavours that rival the taste of the real thing.
Tips to stay on track during Dry January
Do it as part of a group
Having a support system can be a real help when taking part in Dry January. Whether it's with friends, family or colleagues, doing it as part of a team makes it a whole lot easier – especially if your social life involves a lot of situations where alcohol plays a central role. By doing it with a buddy or as part of a group, you'll have people to plan activities with that don't include alcohol.
Mocktails anyone?
Make use of all of the wonderful alcohol alternatives that have burst onto the drinks scene in the past few years. Why not throw a mocktail making evening, or an alcohol-free drinks tasting? You might just find something you prefer!
Tie it in with a fitness goal
Going sober will likely mean you have a bit more time on your hands. Why not put your newfound time (and energy levels!) to good use and tie it in with reaching towards a new fitness goal or mastering a new hobby?
Get sponsored
If you're concerned about falling off the Dry January wagon easily, why not hold yourself accountable by getting sponsored. You'll be more likely to stick to your guns if you know you're going to be raising money for a great cause. If you're doing it as part of a group, then another way to improve your chances of staying on course is by doing a wager. Making a Dry January bet with a friend can be a great way to keep you both motivated.
Try journalling
For most people, giving up alcohol for a whole month can actually be quite an enlightening experience. January often feels like a long month, and even if you just enjoy a glass of wine once a week, it can be challenging to stay motivated. Making a note of the experience either on a daily or weekly basis can be a valuable way to track how the experience is going and offers an opportunity to vent. Recording simple things like your mood, or how you are sleeping can be a valuable way to reflect on progress and is interesting to be able to look back and see the benefits.
What happens when February comes along?
Everyone's experience of Dry January is different. Once February rolls around, some already have their favourite tipple on ice ready to serve, but some have found they've really got into the swing of drinking less. If you ended up enjoying the 30 days of no alcohol, why not keep up the momentum and jump on the 100-days sober challenge? You're already a third of the way through!