Calling all Cabernet Sauvignon aficionados! If you adore the bold and captivating taste of Cab Sav and its tantalising blends from Bordeaux, Napa, South Africa, and beyond, then get ready for a vinous adventure like no other. We've handpicked four enchanting wines that will surely delight your palate and introduce you to new and exciting flavours. Say hello to Nero d'Avola from Sicily, Malbec from Argentina, Carmenere from Chile, and the delightful Portuguese red blends. These wines offer a symphony of tastes that parallel your beloved Cabernet Sauvignon, while also providing an opportunity to explore diverse terroirs and winemaking traditions. So, let's uncork the bottles and embark on this journey of discovery!
Nero d'Avola from Sicily: A Taste of the Mediterranean
If you're enchanted by Cabernet Sauvignon's rich fruitiness and firm structure, then Nero d'Avola from Sicily will undoubtedly steal your heart. Hailing from the sun-kissed Mediterranean island of Sicily, Nero d'Avola is often referred to as the "Black Grape of Avola" due to its inky dark colour.
This robust and full-bodied red wine showcases luscious black cherry, plum, and spice flavours, all complemented by a delightful touch of acidity. Much like Cabernet Sauvignon, Nero d'Avola has a versatility that pairs beautifully with an array of dishes, from hearty pasta to grilled meats. So, let your senses roam through the Sicilian vineyards and embrace the allure of Nero d'Avola!
Pro Tip: Look out for "Nero d'Avola" or "Etna" on the label in the Italian Red Wine aisles
Malbec from Argentina: The Tango of Aromas
Ah, Malbec, the Argentine tango dancer of wines! If you love Cabernet Sauvignon's velvety texture and intense fruit character, then Malbec from Argentina will be your perfect dance partner. Originating from the high-altitude vineyards of Mendoza, Malbec has found its true home in Argentina, where it thrives under the sun-drenched Andean skies.
With its sumptuous notes of blackberry, plum, and mocha, Malbec offers a sensual and passionate experience on the palate. Whether you're indulging in a juicy steak or a cosy evening by the fireplace, Malbec's enchanting dance of flavours will keep you swirling in delight.
Pro Tip: Look out for "Malbec" on the label and region of "Mendoza" for good quality while "Tupungato" for the best!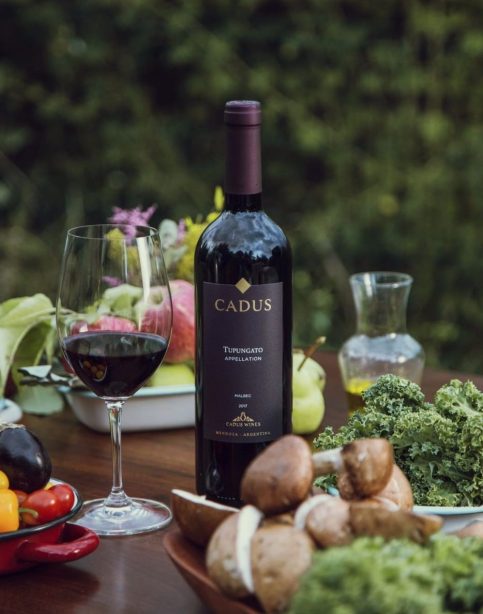 Carmenere from Chile: Unearth a Hidden Gem
For Cabernet Sauvignon fans seeking something intriguing and unique, Carmenere from Chile will be a delightful revelation. Originally mistaken for Merlot, Carmenere was rediscovered in Chile after its near-extinction in Bordeaux. Now, Chile stands proudly as the adopted home of this captivating grape variety.
Carmenere boasts bold red fruit flavours, gentle herbal undertones, and a velvety texture that rivals Cabernet Sauvignon's charm. As you savour its distinctive character, you'll appreciate the journey that brought this hidden gem to the forefront of Chilean winemaking.
Pro Tip: Look for "Carmenere" or "Camenere Blend" on the label. Also try wines labelled "Maipo Valley" which are blends of Carmenere and Cabernet Sauvignon.
Portuguese Red Blends: A Tapestry of Grapes
For lovers of Cab Sav blends, Portuguese red blends are an invitation to explore a delightful tapestry of flavours. Portugal's winemaking traditions, coupled with a myriad of indigenous grape varieties such as Touriga Nacional, Castelão, Tinta Roriz give birth to captivating blends that capture the essence of the diverse terroirs. These wines offer a harmonious balance of fruitiness, earthiness, and spice, enticing your senses with every sip. Just like Cabernet Sauvignon blends, Portuguese reds make exceptional food companions, elevating your dining experiences to new heights.
Pro Tip: Look out for "Douro" on the label, which is a top red wine region of Portugal, for some of the finest full-bodied reds.
As a devoted Cabernet Sauvignon enthusiast, you now have a world of enchanting wines waiting to be explored. From the Mediterranean charm of Nero d'Avola to the passionate dance of flavours in Argentine Malbec, and the hidden treasures of Chilean Carmenere, to the fascinating tapestry of Portuguese red blends, each wine offers a unique journey through different terroirs and winemaking traditions. So, embrace your wine-loving spirit and embark on this delightful adventure. Expand your palate, discover new favourites, and toast to the endless joys of wine exploration!