Mulled wine, bucks fizz and hot chocolate are some of the staple Christmas beverages we all look forward to enjoying in the UK when December arrives. If you're looking for something a little different this year, or have ever wondered what other countries like to sip on during the holiday season, then look no further!
From Italian Bombardinos to Jamaican Sorrel Punch, we'll be showing you some of our favourite Christmas tipples from around the world.
Eggnog – USA
Despite its origins actually stemming from medieval England centuries ago, Eggnog is a firm favourite in American homes at Christmas time. It's a bit of a love/hate drink for many – the thought of drinking eggs is enough to put some people off, but like it or not, it's certainly a familiar fixture in Christmas tradition in the United States. The rich indulgent treat is made with milk or cream, sugar, whipped eggs and your choice of brandy, rum, bourbon, or really, any alcohol you choose!
Variations of eggnog can actually be found all over the world; In Peru they combine whipped egg with sugar, lime and Peruvian spirit Pisco to make their national cocktail; the Pisco Sour, and in Mexico they add cinnamon, vanilla and grain alcohol to make Rompope.
Most claim that their mums make it best, but here's a recipe that you can't go wrong with.
Glögg – Sweden
In Sweden, the festive period is characterised by one drink – Glögg. Upon a first glance, you wouldn't be the first to mistake Glögg (pronounced glug) for mulled wine. You'll soon notice the difference though upon tasting it. For starters, the festive Nordic beverage is a lot boozier than the mulled wine we are accustomed to. The spirit most commonly added to Glögg is aquavit, a Scandi favourite which is distilled from potatoes or grains. Vodka is also sometimes used – and not sparingly either, so go steady if you are ever handed a mug of it!
The Swedes also add dried fruit and nuts to the hot spiced drink, and its served with a spoon to enjoy the booze infused snacks easier.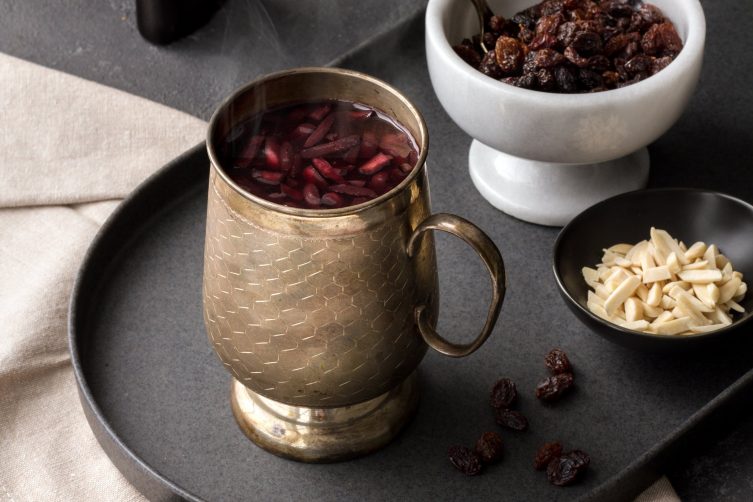 Bombardino – Italy
If you're a fan of eggnog, you'll love this one. Literally translating to 'little bomb' in Italian – the name couldn't be more accurate. A favourite amongst skiers in Italian ski resorts, this warm, indulgent cocktail is sure to knock your ski boots off. It combines hot coffee, brandy and Advocaat or eggnog and is topped with whipped cream and cinnamon – it's the perfect reward after an exhilarating day on the slopes.
Legend has it that this small but powerful drink got its name from a group of skiers in Lombardia. They arrived at a ski lodge during a blizzard and the owner heated them up Zabaglione (a thick Italian custard) with whiskey and milk. When he served it to the chilly skiers they cried "Accidenti! È una bomba!" meaning; 'Crikey, it's a bomb!'.
Sorrel Punch – Jamaica
Christmas in the Caribbean is all about enjoying the sun, sand and sea, and Jamaica's favourite festive tipple is the perfect refreshing accompaniment to the tropical beach vibes. Sorrel punch became a Christmas drink because the key ingredient, hibiscus (known in Jamaica as sorrel), grows in the final months of the year. Served with ice, this fruity cocktail uses crushed and steeped sorrel petals mixed with fresh ginger, water, lime and dark rum.
The steeping process is the most important part of making sorrel; the leaves should be left at least overnight or for up to 2-3 days before adding the sugar and rum. The longer it's left to steep, the tarter it becomes. If you prefer a gentler taste, the acidity can be dialled down by adding sugar and ginger.
Sujeonggwa – South Korea
Sujeonggwa (also known as persimmon punch) is a popular non-alcoholic Korean dessert beverage enjoyed during the winter months. It's a multi-purpose drink, as it's consumed both as a winter-warming treat and as a digestive aid as the main ingredients, ginger and cinnamon are praised for their antimicrobial properties.

Sujeonggwa is typically served on 1st January and during Lunar New Year festivals and served with sweet treats like cookies or rice cakes. It's made by mixing dried persimmons, fresh ginger and cinnamon sticks with boiling water, and then adding sweetener like honey or sugar. After heating the mix, the spices are removed and the persimmons are left to steep for up to a couple of days.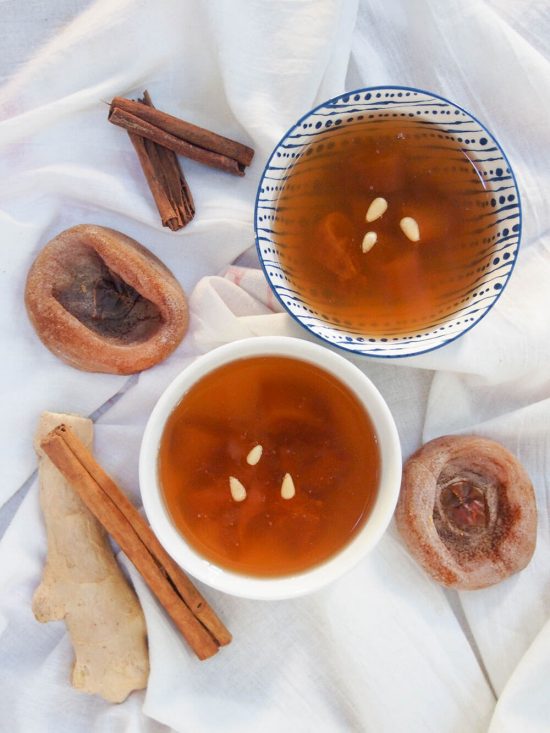 Feuerzangenbowle- Germany
Feuerzangenbowle, translating to fire tongs punch is almost an event in itself! Taste-wise it's similar to Glüwein, but with a theatrical (and fiery!) twist. It's prepared in a bowl which looks a bit like a fondue set and is made by warming red wine with traditional festive spices like cinnamon, cardamom and allspice. A German sugar loaf (i.e a cone shaped block of sugar) is then clamped in tongs above the pan and high proof rum is poured over the sugar and set alight.
The flaming sugar caramelizes and drips into the punch, giving it a delicious unique taste. This dramatic drink can be found at all German Christmas markets, but you can also buy Feuerzangenbowle making kits to enjoy the tradition with friends at home.
Coquitos – Puerto Rico
Rich and creamy, this indulgent Puerto Rican cocktail is Christmas's answer to a piña colada. Made with rum, coconut milk, sweet condensed milk, vanilla, cinnamon and cloves, it is so indulgent that it's difficult to know whether it's a dessert or a drink!
Translating to 'little coconut' this one can be enjoyed with or without the rum, meaning it's a family favourite in many households. It's made by combining all of the ingredients in a blender and mixing until smooth before transferring into an airtight container and leaving to refrigerate for at least four hours. When ready to serve, shake it up and enjoy with a sprinkle of cinnamon or nutmeg.
If kept in the fridge, it can last up to four weeks – we've never heard of anyone being able to resist it for that long though!