Embark on a delightful journey through the finest coffee equipment, celebrated by Amazon reviews. Discover the top-rated gems beloved by coffee enthusiasts, ranging from espresso connoisseurs to pour-over aficionados. This carefully curated list encompasses diverse brewing methods, showcasing appliances and accessories lauded for their reliability, performance, and ability to elevate the coffee experience.
Whether you're a seasoned barista or a novice embarking on your coffee exploration, this compilation provides valuable insights into the most esteemed gear available on Amazon, ensuring your daily brew attains new heights of satisfaction.
Rest assured, our recommendations remain unbiased despite potential commissions.
TIMEMORE Chestnut C3 PRO Manual Coffee Grinder
The 2022 Timemore Chestnut C3 Pro, an upgraded C2/C3 version, boasts 40,000 reviews. Amazon Customers appreciate the manual food mill grinder's ease of cleaning, use, and quality, noting its simple assembly and efficient grinding. Some commend its overall quality and value.
With new S2C steel burrs from the Chestnut X, it guarantees swift, consistent coffee grinding for optimal taste. The patented foldable handle prevents tipping, aiding storage. Featuring stepless grinding adjustment and a durable integrated metal body, this compact coffee grinder is perfect for daily use, travel, or camping, weighing just around a pound (473g) with a 20-gram capacity, providing versatility from espresso to French press.
AeroPress Coffee and Espresso Maker
With over 18,000 ratings and over 80% being 5 stars, this AeroPress Original Coffee Maker crafts uniquely delicious brews. Merging the best from various methods, it yields smooth, rich, grit-free coffee with a delightful full-bodied finish. The patented 3-in-1 brew technology ensures pure flavours, outclassing a French press. Top reviews appreciated AeroPress for its smooth operation, performance, and portability. They note its ability to effortlessly produce high-quality, smooth coffee with minimal mess, yielding excellent results.
Compact, shatterproof, and travel-ready, it promises a superior coffee experience – a perfect gift for a smile and a hug.
Lavazza Modo Mio Electric Milk Frother
Indulge in perfect frothy milk for your flat whites with the Lavazza MilkEasy Frother, a blend of practicality and elegance. Over 5000 customers appreciate the milk frother for its quality and easy cleaning. They highlight its ability to create fantastic frothy milk, noting its ease of cleaning and dishwasher-safe design. This compact tool fits seamlessly into any kitchen, offering easy use with a multifunction button for both warming and frothing. The magnetic whisk ensures your cappuccino is frothed to perfection, visible through the transparent lid.
The ergonomic design makes this cappuccino frother not just practical but also intuitively designed for your daily enjoyment. Elevate your coffee experience with a touch of modern elegance.
Maintaining the peak performance and longevity of our beloved coffee machines is crucial, and regular descaling is a key practice for achieving the perfect cup. In our research, the De'Longhi Descaler emerges as an Amazon customer favourite, amassing over 90,000 reviews!
Users praise its ease of use, effectiveness, and excellent cleaning capabilities. Additionally, positive remarks extend to the well-packaged delivery, solidifying its reputation as a top choice for keeping coffee machines in optimal condition. Suitable for all coffee machines, including bean-to-cup machines, pump espresso machines, filter coffee pots, and pod machines, it offers comprehensive descaling support.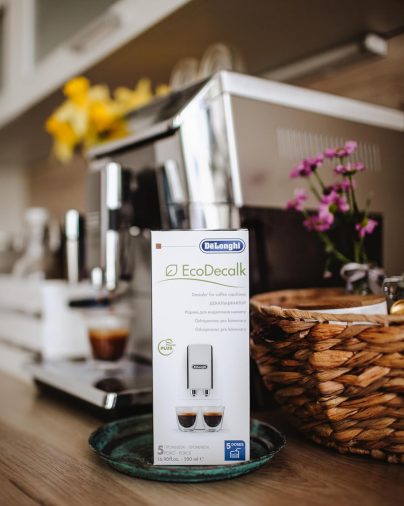 With almost 60,000 reviews on Amazon, the KRUPS electric grinder wins customers over with its appealing design, great value, and space-efficient build. Featuring one-touch consistent grinding, its robust stainless-steel blades guarantee uniform coffee grounds. Customise your grind effortlessly, from extra coarse for cold brew to fine for espresso, ensuring your perfect cup with just a button push.
The lid-activated safety ensures secure usage, allowing the blades to spin only when the lid is in place. Craft your coffee to perfection daily with this versatile electric grinder.
De'Longhi Magnifica S, Automatic Bean to Cup Coffee Machine
Living up to its name, the Magnifica automatic bean-to-cup coffee machine by De'Longhi offers simple touch operation. With a soft-touch control panel, it effortlessly brews two cups simultaneously. The Magnifica S includes a milk frother, combining steam, air, and milk for rich, creamy froth in cappuccinos or lattes. Featuring a silent integrated grinder with 13 settings for both coffee beans and ground coffee, however, opinions on noise and performance vary among customers.
Easy to clean, the carafe has an integrated clean function, automatically washing parts in contact with milk. Customers praise its ease of cleaning, compact design, and user-friendly operation. They highlight its ability to make excellent coffee and simple setup, expressing satisfaction with its value, quality, and appearance.