At All Things Drinks, we go live with winemakers via Instagram Live and find out more about their wines, country, vineyards and of course taste the wines together.
Here is a short clip from our full interview with Mikkel Bjergsø from Mikkeller Beers where he tells us about his journey of creating the best award-winning alcohol-free beer in an innovative way and where he sees the future of alcohol-free beers is.
Have you recently been trying to cut down on your overall alcohol intake?
Or love the taste of beer but would like to be able to drinks a few and not wake up with a hangover?
Or perhaps you are going sober for a more healthy and mindful lifestyle but love the taste of beers?
Alcohol free beers are the answer and they are here to stay. With more people looking for hangover-free alternatives, the beer industry has upped its innovation game and have started producing some great no-abv beers which do not taste like cardboard and water. One of the producers that started working on this right from the start and have innovated in all the right direction is Mikkeller Beers.
So we sat down for an interview with the founder Mikkel Bjergsø to discuss their unique and award-winning beer Mikkeller Weird Weather IPA as well as where he sees the beer industry evolving to satisfy people's demand for alcohol-free beers without compromising on flavour.
Mikkel started working on non-abv beers when the beers on the Danish market were not very good and as a runner as well as an athlete, Mikkel wanted to be able to drinks a few beers after a run. But he was determined not to make tasteless beers that did not taste like the real deal. He wanted to create an alcohol-free beer that you could drinks while you were running, cycling, exercising, driving!
With this idea in his head, he reached out to one of the leading yeasts company and realised that there were certain yeasts that would create no alcohol but still create the esters which are precursors to the flavours. Armed with these magic yeasts that he started his 7 year stint of experimenting, brewing and tasting – all to produce a delicious beer tasting non-beer!
Today, upto 40% of all Mikkeller beers around the world are non-abv beers and they available in 50 countries worldwide! Mikkel travels the world and the demand for alcohol-free or low alcohol beers is booming across many cultures & cuisines. Future of alcohol beers is definitely in innovation in creating alcohol-free beers across the different styles that people enjoy. Mikkel hopes to see more craft breweries making non-alcoholic porters, fruit beers, pale ale, coffee stouts, lambic beers, hazy style beers and so many different beer styles, that people do not have to compromise on their favourite flavours or beer & food pairings.
Did you know? The Mikkeller Weird Weather Non-Alcoholic IPA won Beer of the Year at Stockholm Beer Festival! What an incredible achievement for a non-abv beer.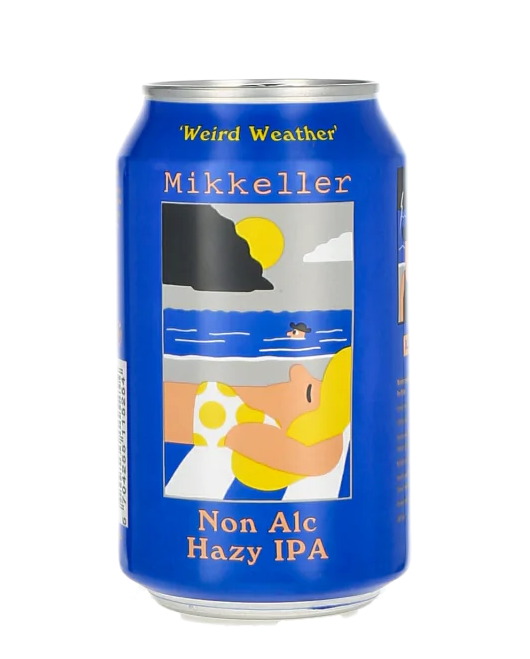 Private: Mikkeller Weird Weather IPA 0.3% Alcohol-Free Beer
£2.80 – £57.00
This Mikkeller low-alcohol beer, which is practically alcohol-free, has a floral, bitter New England Style IPA with a full body and grassy notes of pine. It's truly a delicious low alcohol beer that tastes like a unique IPA.  Best thing about it? You can drink a few and not regret it the next day.
VIEW PRODUCT
We hope you have enjoyed this article and learned something about these incredible beers. If you would like to watch the full interview – click on the link to our Instagram Live – Meet the Tastemakers – Mikkel from Mikkeller Beers
If you would like to learn more about non-abv drinks in general, read the What's the deal with No & Low Drinks? article, where we explore some at some of the brands and trends leading the way in the No and Low category.