If you're a sushi lover with a penchant for delightful libations, then get ready for a culinary journey that will tickle your taste buds and elevate your dining experiences. Sushi, the iconic Japanese delicacy, is not just a treat for the eyes but also a perfect canvas for wine pairings. So, grab your chopsticks and join us on a fun and engaging exploration of the delectable world of sushi and wine pairings.
Sushi & Sparkling Wines: A Bubbly Affair
Let's kick off our sushi extravaganza with some sparkle! Whether it's the delicate fish rolls or the scrumptious sashimi, sparkling wines like Champagne, Prosecco, and English Sparkling are your go-to partners. Their vivacious bubbles dance in harmony with the fresh and subtle flavours of sushi, making every bite a celebration of taste.
Pro Tip: Look for "Blanc de Noirs" or "Blanc de Blancs" on labels and learn more about the grape varieties that create the flavour harmonies.
Salmon Sushi & Chardonnay: A Match Made at Sea
Next up, the classic Salmon Sushi! This iconic fish deserves a wine that complements its lusciousness. Enter Chardonnay, the ever-popular white wine with a rich and buttery character. A sip of a well-balanced Chardonnay enhances the succulent taste of salmon and adds a delightful creaminess to the experience. You'll be hooked on this sea-sational pairing!
Pro Tip: Look for Chardonnays made in Coastal regions such as Casablanca Valley in Chile, Walker Bay in South Africa or Marlborough in New Zealand for that extra expression of the unique terroir and maritime influences that contribute to the character of their Chardonnay wines.
Spicy Tuna Rolls & Riesling: An Adventure for Your Palate
For those craving a bit of heat and excitement, Spicy Tuna Rolls are the perfect choice. To tame the fiery flavours and enhance the tuna's deliciousness, we turn to Riesling. Its touch of sweetness and zesty acidity provide a cool and refreshing contrast, turning each bite into a flavourful escapade that leaves you wanting more.
Pro Tip: If you like German Rieslings, look for "Kabinett" or "Spätlese" on the label for wines varying from off-dry to medium sweetness.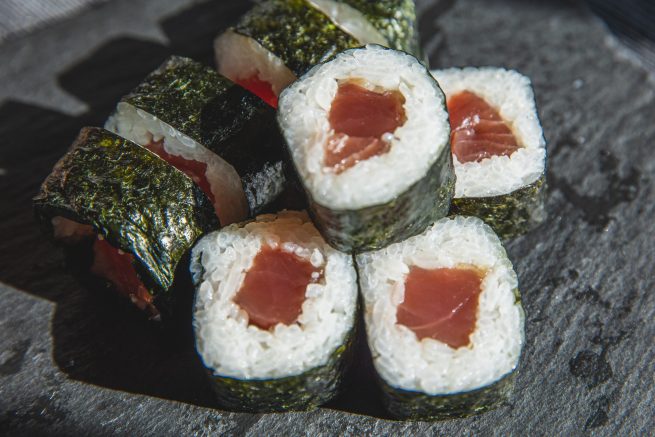 Ebi Nigiri & Sauvignon Blanc: A Symphony of Refreshment
Say hello to Ebi Nigiri, the delightful prawn sushi that's brimming with freshness. To accentuate its natural sweetness and delicate taste, we reach for Sauvignon Blanc. With its vibrant citrus notes and crisp acidity, this white wine creates a symphony of refreshment that enhances the essence of the prawns.
Pro Tip: If you don't usually like Sauvignon Blanc because of their sharp and acidic mouthfeel; try Sauvignon Blancs from the region of Touraine or Menetou-Salon. These Sauvignon Blancs tend to be affordable and offer delightful fruit flavours and smoother acidity.
Unagi Rolls & Pinot Noir: A Match Made in Umami Heaven
Unagi Rolls, or freshwater eel sushi, offer a sublime umami experience that calls for a red wine with equal complexity. Enter Pinot Noir! With its elegant and smooth character, Pinot Noir beautifully enhances the savoury allure of the eel, creating a mouthwatering fusion of tastes that leaves you wanting more. Its delicate red fruit flavours and balanced acidity perfectly complement the rich umami of Unagi, making each bite an exquisite journey of flavours. So, if you're seeking a wine that dances in harmony with this delectable sushi choice, Pinot Noir is your perfect match! Cheers to the umami symphony of Unagi and Pinot Noir—a pairing that will enchant your palate and elevate your dining experience to new heights!
Pro Tip: Pinot Noirs from most parts of the world are delicious but look for Pinots from Chile, New Zealand or Germany for affordable alternatives to the eye watering Burgundies!
Matcha Green Tea Desserts & Moscato: Sweet Bliss
As the sushi feast concludes, it's time for dessert, and what better way to end than with Matcha Green Tea treats? Enter Moscato, the delightful sweet wine with playful bubbles and fruity notes. Its refreshing sweetness complements the earthy and slightly bitter tones of Matcha, creating a sweet bliss that rounds off your meal on a high note.
Pro Tip: Avoid the mass produced Moscatos and look out for half bottles of Moscato d'Asti from Italy or Muscat from Australia. If they are proving difficult to find, go for small bottle of Tokaji Late Harvest or Sauternes.
There you have it, sushi lovers and wine aficionados—a culinary adventure that's as vibrant as the fish in the ocean and as bubbly as the sparkling wines in your glass. From sparkling wines and Chardonnay to Riesling and Sauvignon Blanc, and from Pinot Gris and Merlot to Moscato, there's a wine for every sushi bite and a sushi roll for every wine sip. So, the next time you indulge in sushi, venture into the delightful world of wine pairings, British style, and elevate your dining experience to new heights. Cheers to the delightful union of sushi and wine, and may your taste buds forever dance with joy!