The festive season is finally upon us and particularly after the year we have just had, it's time to kick back, relax and enjoy the holidays. Whether you're hosting a Christmas soirée, or just want something to sip on whilst watching your favourite Christmas movie, get into the festive spirit and unleash your inner bartender by trying some of these fun (and delicious) Christmas cocktails. Choose just one, or try all five!
Classic mulled wine
We just had to include mulled wine first! Christmas simply wouldn't be Christmas without cozying up to the simmering aromas of fresh orange, spices and cinnamon. It's guaranteed to make your home smell incredible! Don't stress too much about which red wine you choose as it will be taking on a lot of additional flavours, your safest bet is to go with whichever is your favourite!
Ingredients (serves five)
1 large orange
1 bottle of red wine
60ml brandy (optional)
1 to 2 tablespoons maple syrup to taste
2 whole cinnamon sticks
3 star anise
4 whole cloves
Optional garnishes: Fresh whole cranberries, cinnamon sticks, additional orange rounds or half moons
Method
Cut your orange in half, then slice one of the halves into rounds and add them into a large saucepan. Squeeze the juice of the other half into the saucepan
Add the wine, brandy, cinnamon sticks, star anise, honey and cloves into the pan and warm over a medium heat until steaming and fragrant
As soon as you see bubbles, reduce the heat and continue cooking on low for 5 minutes
Serve in mugs with your chosen garnish
Spice 75
This aromatic twist on the classic French 75 is absolutely gorgeous. We recommend using this CUT Spiced Rum, infused with aniseed, nutmeg, ginger and black peppercorn and this Champagne Moutard Grande Cuveee Brut NV for a sophisticated and elegant drink – perfect if you're planning on hosting a Christmas drinks party.
Ingredients (serves 6)
55g golden caster sugar
2 tsp allspice
200ml Cut Spiced Rum
90ml lime juice
600ml Champagne Moutard Grande Cuvee Brut NV
Method
Make a simple sugar syrup by warming the sugar with 30 ml water mixed with the all spice. Leave mixture to cool and strain with a double layer of kitchen towel or a coffee strainer
Pour the sugar syrup into a cocktail shaker along with the rum and lime juice. Shake it up with ice and strain between six champagne flutes
Top each flute with champagne and enjoy!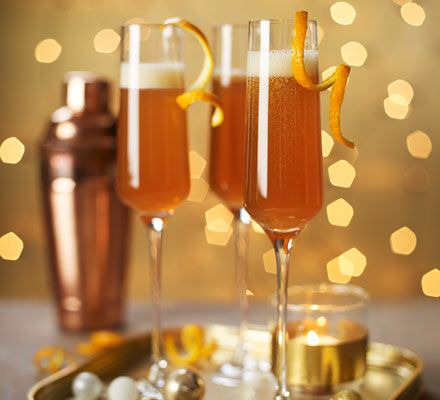 Warm winter snowball
Bailey's Irish Cream is another Christmas staple, and it's a delicious addition to this indulgent cocktail. It's up to you to decide if you want this one as a drink or as dessert – it's so creamy you almost need a spoon to drink it!
Ingredients (makes one serving)
1 tablespoon white chocolate chips
1 tablespoon caramel sauce
1 teaspoon vanilla extract
100ml milk
60ml Baileys Irish Cream
optional: whipped cream and cinnamon for topping
Method
Heat the chocolate, caramel, vanilla, milk and Baileys together in a heatproof bowl in the microwave for 60-90 seconds, until the chocolate has melted.
Pour into a glass and top with whipped cream and cinnamon
Spiced orange hot toddy
A twist on the classic, this one uses Lakes The One Orange Cask Whisky. It has notes of country marmalade, butterscotch and candied oranges, giving the cocktail an extra zesty depth. This recipe is sure to keep you toasty whilst sipping it by the fire on a chilly Christmas eve.  It's also a great one if you are suffering with the winter sniffles, the hot whisky will certainly clear away those cobwebs!
Ingredients (serves two)
120ml water
2 tbsp fresh orange juice
2 tbsp honey
90ml Lakes The One Orange Cask Whisky
1 slice of charred orange
Cinnamon sticks, optional, for serving
Method
To make the charred orange slices, place the slices down on a grill pan, and sear for about two-three minutes each side or until the surface is evenly charred.
For the hot toddy, bring the water to a boil in a saucepan, then stir in the orange juice, honey and whisky.
Divide the mixture between glasses and garnish with the charred orange and/or a cinnamon stick.
White Christmas margaritas
We couldn't write a list of cocktails and miss out a margarita, could we!? These would be perfect served at a Christmas drinks party – add a couple of cranberries and a sprig of rosemary and you've basically got Christmas in a cup! Make sure to use a blanco tequila like this Cazcabel Honey Tequila as the gold or aged variety has a stronger taste and will turn the margarita golden rather than a crisp snowy white colour.
Ingredients (makes 2)
100ml Cazcabel Honey Tequila
80ml triple sec
80ml lime juice
100ml coconut milk
100ml coconut cream
60ml simple syrup
1 teaspoon coconut extract, if desired
For garnish: sprigs of rosemary and fresh cranberries
Method
To make the simple syrup, combine equal parts sugar and water in a saucepan over a low heat until the sugar completely dissolves. Remove from the heat and allow to cool
For the margaritas, combine all the ingredients into a blender and whizz until smooth
Pour into glasses and garnish with a sprig of rosemary, fresh cranberries and a sprinkle of coconut extract.