Want to make cocktails at home but put off by a never-ending list of ingredients? Each month we'll be showing you how to make the most of your drinks cabinet with some fabulous cocktails using just four ingredients or less (not including ice or garnish).
The best part is that all the spirits and mixers are available on All Things Drinks – so what are you waiting for? Fill your basket and get those cocktails shaking!
This month, we're talking gin! We have put together 5 of the easiest gin based cocktails for you to create this Christmas.
Timeless French 75
Gin and sparkling wine make a cracking combo… This refreshing and zesty cocktail is always a good idea for a girl's night or a boozy brunch.
Ingredients
25ml Mermaid Gin
10ml freshly squeezed lemon Juice (+ a twist from the lemon zest)
5ml Agave/Sugar syrup
Sparkling wine (we love champagne for this!)
Method
In a chilled cocktail shaker, add ice, Mermaid Gin, lemon juice and your sugar syrup.
Shake it all up and strain into a champagne flute.
Top it up with your favourite fizz and a twist of the lemon zest.
TIP💡 Sugar syrup can be made easily by whisking sugar and water in a small saucepan over a medium heat until the sugar has dissolved completely. Remove from the heat and leave to cool. Voila!
Bloody Spritz
Ingredients
30ml Bloody Shiraz Gin
30ml ruby grapefruit juice
Top up with your favourite fizz
Ice
Method
Move over old-school Pimms, a new Summer Drink is in town! Bloody Shiraz Gin, grapefruit and bubbles come together to create a gorgeously pink party starter – Drink it quick!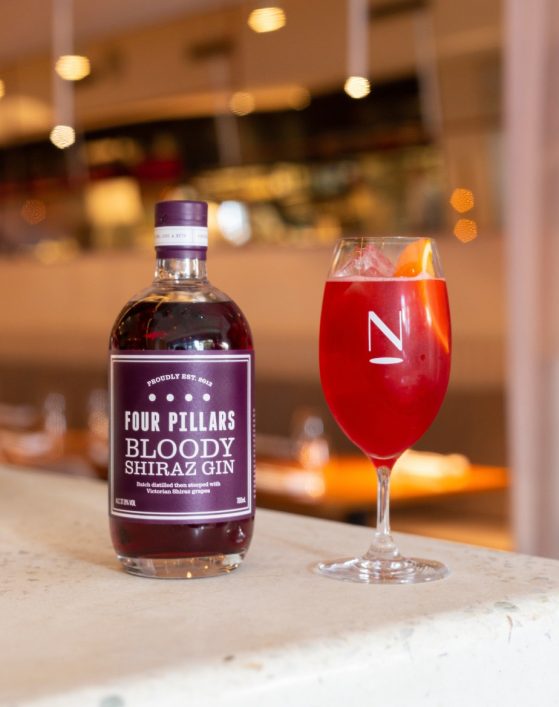 Classic Martini
You'd be hard pushed to find a cocktail more classic than a Martini. It's also one that is hotly debated. Shaken or stirred? Gin or Vodka? Dirty or dry? Here's our hot take… It uses Olive Leaf Gin from Four Pillars, which is made with the world-class groves of Victoria's Cobram Estate.
Ingredients
60ml Olive Leaf Gin
20 ml Dry Vermouth
Lemon
Olive Oil
+ Sicilian olives to garnish
Method
Stir Olive Leaf Gin and Vermouth in a mixing glass with ice and strain into a frozen martini glass.
Squeeze the lemon peel over the martini to express the oils and discard.
Garnish with a few drops of good quality extra virgin olive oil and serve dirty with three olives
TIP💡 Don't throw away the lemon peel if you like a citrusy martini – pop it in to give it a zesty kick!
Lyre's Gin Gin Mule
Can't choose between a Moscow Mule and a Mojito? Now you don't have to! This tasty mocktail brings all the fun and flavour of both – just without the alcohol (and low in calories too!). Using Lyre's 0% Dry London Spirit, it combines gin and ginger flavours to create a refreshing and memorable highball. Delicious for a hazy summer evening BBQ.
Ingredients
15ml lemon juice
7.5 ml white sugar syrup (1:1)
90ml premium ginger ale
+ 8 mint leaves and ice to garnish
Method
This one is easy… Simply add all the ingredients into a highball glass with the ice and mint leaves. Stir, sip and enjoy!
Pink Gin Spritz
Think pink! Using Mermaid Pink Gin and the gorgeous Ceradello Prosecco Organic Brut, this fizzy and fruity take on the classic spritz will be sure to add an extra sparkle to any occasion.
Ingredients
45ml Mermaid Pink Gin
90ml Lemonade
+ ice and strawberry slices to garnish
Method
Another easy one! Fill a large wine glass with ice and add the pink gin and lemonade. Top with Prosecco and garnish with berries of your choice – we love freshly sliced strawberries for this.